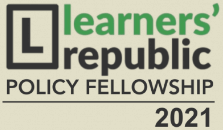 The LRP fellowship provides a platform to mentor and train students, at an undergraduate and graduate level, to become a part of the policy process in Pakistan. By maintaining an interdisciplinary and practical focus, the fellowship offers a multidimensional perspective on how the policy process is impacted by multiple actors, interests, ideologies, and contexts.





January 1st  –  31st, 2021
between 06:00 p.m. 09:00 p.m.
Registration: www.bit.ly/LRP2021
Application deadline: December 15, 2020
Mentors