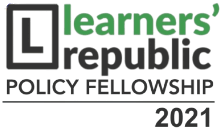 The LRP fellowship provides a platform to mentor and train students, at an undergraduate and graduate level, to become a part of the policy process in Pakistan. By maintaining an interdisciplinary and practical focus, the fellowship offers a multidimensional perspective on how the policy process is impacted by multiple actors, interests, ideologies, and contexts.





Registration Deadline
December 15, 2020
LRP Fellows will engage with eminent policy makers, practitioners and academics to get counselled on policy-related research, writing and career opportunities.