By Wahiba Junejo
---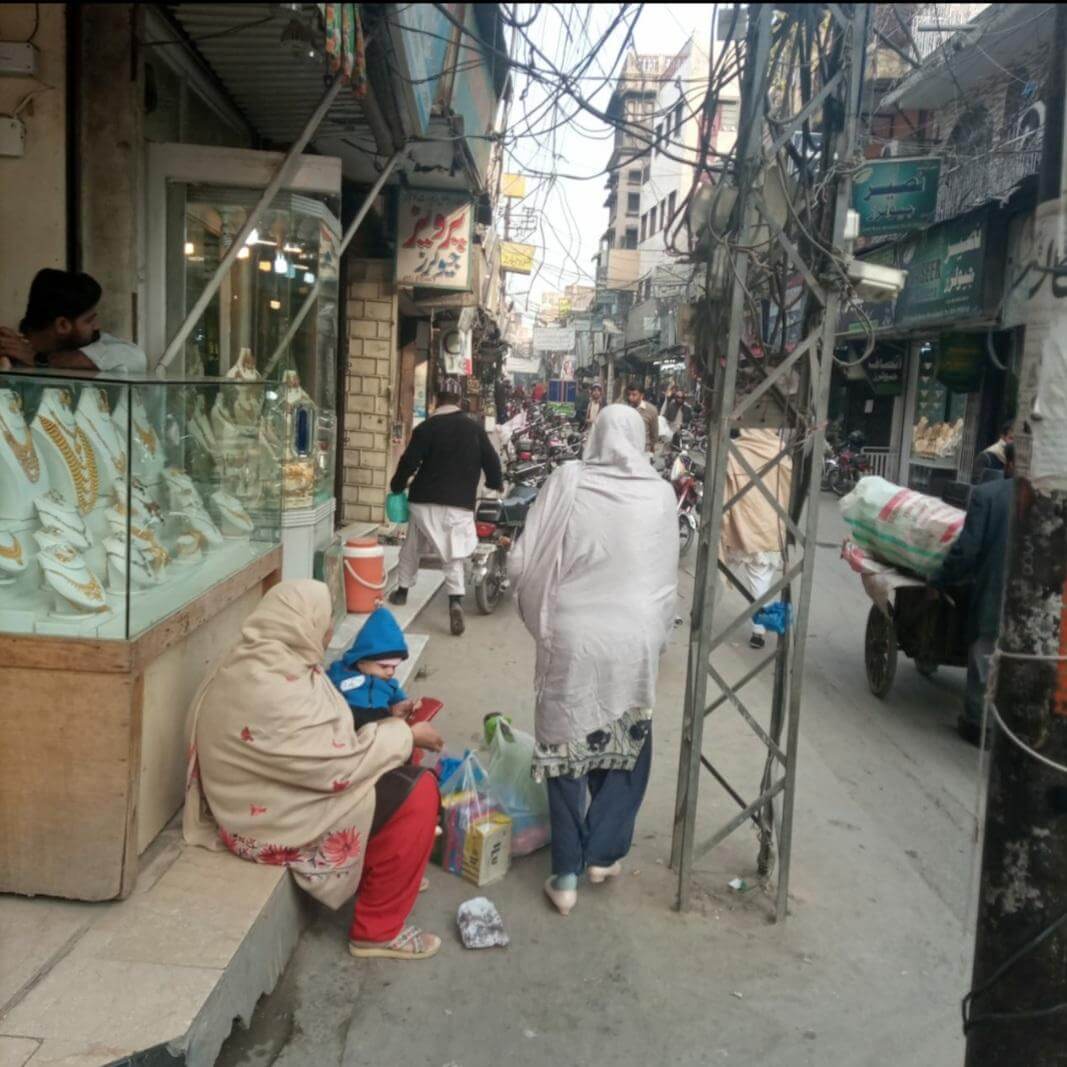 In Pakistan, public spaces and women do not seem to be a compatible match. Women encounter unique issues in public spaces. To ascertain how women-friendly some markets in Lahore are, I along with two of my classmates (Maira Rehman and Duaa Khan) visited two markets – Shadman and Banobazar. These bazars were picked based on their reputation of being more accepting of unaccompanied female visitors. We went as a pair in broad daylight to understand the gender-based dynamics, social inclusion, and accessibility to public spaces in these locations.
As a woman in Pakistan, there are a few things that need to be considered when going to public places:
For most places, women need not go unaccompanied for their safety and preferably accompanied by a male.
Women need to be conscious of how they are dressed.
Public toilets, especially for females, are rare.
Women will be stared at irrespective of their age or how inconspicuous they may appear.
There is lack of awareness about personal space.
In Shadman market, there were a few problems that stood out while others were, refreshingly, not experienced. On a positive note, the presence of a female hostel right in the heart of the market and a semi residential area in proximity means that a lot of women and children present in the nearby public park seem comfortable being there. On the flip side, there are no restrooms available for the visitors. Most of the available space is used for car parking with no pavement space for walking. In the evenings, the streets are rarely lit raising safety concerns especially for women. The presence of streetlights, flood lights and shop lighting provide a clear view of the public spaces. This contributes to women's perception of safety and access to these spaces.
Bano Bazaar is commonly filled with women and gives a sense of safety in numbers. However, the narrow alleys leading to the inner parts of the market lack adequate street lighting. As a result, women try to avoid the dimly lit pathways. Moreover, an issue faced in both these markets is that the interconnecting alleys and shops on multiple stories in certain areas can only be accessed through staircases that go up and down. This hinders access to the elderly and differently abled women in the absence of supporting ramp structures for easier access.
Visit to these two marketplaces helped us draw important lessons for urban planning. The faults in design of our urban spaces and a lack of awareness on how that impacts and restricts access to them contributes to marginalization of women. This results in default segregation and restrictions on access to public spaces based on gender. Lack of female urban planners and a gender lens perspective results in negligible involvement of women in planning and designing urban spaces. It also leads to gaps in intellectual debate and implementation of solutions to problems faced disproportionately by women.
The culture of having agency over how women dress and the role of male family members in deciding where women can go adds a layer of complexity to the overall issue of acceptability of women in public places. All these issues culminate in a lack of trust between women and the cities they inhabit. The concept of women enjoying the public space to relax and not specifically linked to a purpose or task is not understood by the patriarchal mindset. Lessons can be learnt from healthier public spaces in other countries such as the Grand Bazaar in Turkey where the women spend their time freely even among the narrow alleys.
Our city planners and administrators need to understand women and children are in majority population in urban centers. Yet they are ignored while making decisions that impact urban life. Our message to decision makers is "Cities are safe when women feel safer in public spaces and cities are beautiful when women and children consider public spaces as living rooms of cities".
——————————–
Wahiba Junejo is a Law grad of LUMS class of 2021, currently pursuing civil and criminal litigation in Karachi. Her research interests include legal and policy critique.