By Sehar Mannoo
---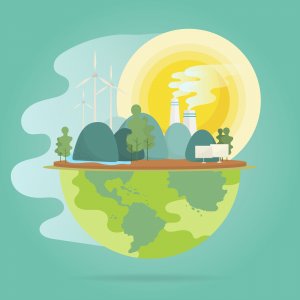 The concept of climate justice entails protection of rights of the marginalized and vulnerable who bear the brunt of climate change while having minimum contribution in its creation. Climate justice also demands that both benefits and burdens of climate change should be shared equitably between current and future generations. Costs of climate change not only include threats to livelihood in present but also entails future implications of climate change on basic necessities like water availability and crop production. 
Vulnerable segments of the society including poor, women and children are more susceptible to adverse effects of climate change than others whereas their contribution to climate change is minimal. Since climate change knows no geographical boundaries, the impacts of climate change are not only divided inequitably amongst social classes but also amongst countries. Pakistan is the seventh most affected country by climate change with a contribution of less than one percent. The developed world should realize that development efforts should be directed towards countries that are more vulnerable to the damaging effects of climate change in order to address their adaptation needs and these countries should be given a voice in decision making and policy formulation related to climate change.   
Climate change affects the various segments of the society asymmetrically and has is more devastating for the marginalized sectors of the society. Disasters that arise from climate change are harsh for the marginalized and vulnerable segments. The impacts of Hurricane Sandy in New York in 2012 exhibited climate injustices evidently, the hurricane resulted in stranding of old and handicapped people in buildings without water and electricity even after evacuation. Moreover, the poor and vulnerable people were affected severely due to closure of public facilities as they rarely store basic necessities. 

Ashgar Leghari, a farmer from south Punjab took Government of Pakistan to the court in 2015 on the grounds of government's inaction on the climate change front, which he claimed had severely damaged his crops and violated his fundamental rights. Lahore High court's decision in the case was a landmark in recognizing the concept of climate justice and stated that "the delay and lethargy of the State in implementing the Framework offend the fundamental rights of the citizens." a Climate Change Commission, with environmental experts, international organizations, local experts, representative of the Government was also constituted by the court. The Commission was mandated with the task to give recommendations on how to deal with climate change. The judgement also differentiates between environmental justice and climate justice, environmental justice is regarded as a local concept whereas climate justice is a global problem encompassing all sectors affected by climate and involves inequitable distribution between developed and developing world. 
Although, the concept of climate justice has been legally recognized after the historical judgement, but we see little effort on that front by the government. The most vulnerable segments living in slums face exposure to toxic water and other hazards of climate change. 
Pakistan should raise its voice against the climate injustice that it is facing  because of the industrialized and developed countries. Such an effort can result in increased climate financing for green projects in Pakistan and even possibility of debt for environment swaps. However, Pakistan has to build credibility by taking measures to promote measures for environmental protection and increased spending on mitigation of climate change before raising its voice. As far as the climate injustice between various social stratifications like income groups, gender and age groups is concerned, Ministry of Human Rights and Ministry of Climate change should work together on policies to ensure that climate justice is applied to climate policy. Carbon pricing in form of both carbon tax and emissions trading can be another way for ensuring climate justice as the emitter gets to pay for the emissions hence promoting equity, such revenues can be used for financing green projects hence promoting clean environment. Trading of carbon units by making carbon emissions a marketable commodity will result in reduction of emissions and at the same time play an important part in equitable distribution of costs and benefits amongst the society as well as countries if the market is open to trade internationally.
If Pakistan works to achieve climate justice, the effort would open a window of opportunity for Pakistan to go towards green and sustainable development.