By Zainab Zahid
---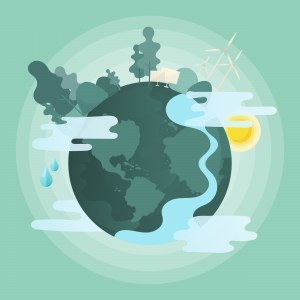 People are experiencing serious impacts of climate change which will significantly affect the children and young people of today with increasing intensity over time. In Pakistan, 64% of the population comprises people younger than 30, while 29% represent the youth bulge between 15 and 29 years. Over the past few years, a huge surge in youth-led climate movements has been observed in the country as the time is slowly slipping toward the end of the "Decade of Action". Without a doubt, youth remains a significant stakeholder of any country which holds the power to design the future. The rising youth climate movements in Pakistan have shown that there is a willingness out there to take responsibility for driving the change. It calls for an action to recognize the need of supporting youth-led initiatives and further build their capacity, enabling them to be the 'agents of change'.
The leadership of Pakistani youth in the climate action arena is totally self-managed and misses an effective engagement plan at local levels. Amid the climate crisis which we are facing, there is an immense need to acknowledge the efforts of Pakistani youth in the fight against climate change by providing meaningful engagement opportunities through the establishment of an institutionalized framework under the Ministry of Climate Change. It should work as a dedicated networking platform to promote environmental awareness, capacity building, and training through the appointment of Youth Focal Points across the country (especially in remote and vulnerable areas). It is not only necessary to ensure a bottom-up approach to find solutions for the rising climate crisis but also presents an opportunity for useful youth consultation and knowledge-sharing hub.
When countries across the globe, including Pakistan, are aiming to have high very ambitious climate adaptation and mitigation goals, it is a bit alarming to know that no significant work has been done in the context of the climate empowerment of the people. There is an opportunity out there for Pakistan by taking guidance from the "Action for Climate Empowerment (ACE)" under Article 12 of the Paris Agreement, 2015 and Article 6 of the United Nations Framework Convention on Climate Change (UNFCCC), 1992. This opportunity is a one place solution for climate education, training, public awareness, public participation, public access to information, and international cooperation. This gap can be filled by the appointment of a National Youth Focal Point for ACE and there is a well-established process for this under UNFCCC. 
With Pakistan's improvement on Global Climate Risk Index from the 5th to 8th most vulnerable country, we should not ignore the fact that Pakistan has continuously been ranked among the top 10 worst hits to climate change. Integrating the 'youth' demographic dividend in solving the climate crisis and related challenges is being widely recognized by many countries of the world and there is a need to have a country-driven approach in line with Prime Minister's Clean and Green Pakistan campaign. In a conversation with Zarmina Khan, a young environmentalist and a youth development officer, she says that it is fascinating to see our youth groups actively participating and engaging communities for climate advocacy. "Our youth is very talented and always stand out when it comes to idea generation. There should be a forum along with other stakeholders including the policymakers, where young people could initiate conversation to cope up with the changing climate. This forum should also provide them backup support and invest in their initiatives," she emphasized.
It is also prudent to address the inter-generational mistrust and tokenistic approach towards youth-led action as well as youth participation, which is not just demeaning towards the efforts of the young climate leaders but also hinders effective engagement. Where 64% of the Pakistani youth bulge present an opportunity for active engagement and driving effective climate awareness campaigns, we will have to face our predicament in form of young generations cursing us for our deeds if we fail to do so. Learning from the experiences from the past, it is high time to support the widespread national youth-led community-based actions and keep the youth engagement for climate change at the top of the agenda for constructive outcomes.